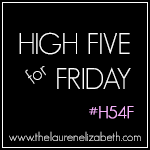 Thanks,
Lauren
!
1. I had a fast and smooth week!
2. I splurged on a package of Starbucks Peppermint Mocha Instant coffees and oh.my.goodness. they are amazing!
3. this weekend is going to be a good one
4. next week is Thanksgiving,it is sinking in!
5. almost done reading
the cuckoo's calling
Happy Friday!
Also,joining in on Jennie's fun,too!