Thanks,Heather and Katie!
I read three of these books just over the weekend alone;they were so good that I couldn't put them down and stayed up till 2 in the morning reading them.
And apparently I am in a "darker" phase right now,since three of these books are more disturbing/thrilling/suspenseful/tragedy-filled.
Not My Daughter
by Barbara Delinsky
When Susan Tate's seventeen-year-old daughter, Lily, announces she is pregnant, Susan is stunned. A single mother, she has struggled to do everything right. She sees the pregnancy as an inconceivable tragedy both for Lily and herself. Then comes word of two more pregnancies among other high school juniors who happen to be Lily's best friends. The town turns to talk of a pact. As fingers start pointing, the emotional ties between mothers and daughters are stretched to breaking in an emotionally wrenching story of love and forgiveness.
(thanks to amazon)
An intriguing idea, the immaturity of teens is evident while reading this book for sure, yet it makes you think about what it was like to be that young again AND "decide"/choose to have a baby. You feel for the Moms especially; and I love both sets of best friends (the Moms and the daughters) because you see what true friends are like. I kept laughing/shaking my head at Lily whenever she would say "this isn't what was supposed to happen" as though she never did think it all through and realize her actions had unforseen consequences. I liked the ending and the unexpected romance addition. A quick read; I give it an A.
Sworn to Silence
by Linda Castillo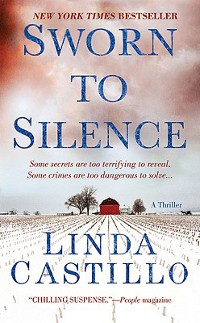 In the sleepy rural town of Painters Mill, Ohio, the Amish and "English" residents have lived side by side for two centuries. But sixteen years ago, a series of brutal murders shattered the peaceful farming community. In the aftermath of the violence, the town was left with a sense of fragility, a loss of innocence. Kate Burkholder, a young Amish girl, survived the terror of the Slaughterhouse Killer but came away from its brutality with the realization that she no longer belonged with the Amish.
Now, a wealth of experience later, Kate has been asked to return to Painters Mill as Chief of Police. Her Amish roots and big city law enforcement background make her the perfect candidate. She's certain she's come to terms with her past—until the first body is discovered in a snowy field. Kate vows to stop the killer before he strikes again. But to do so, she must betray both her family and her Amish past—and expose a dark secret that could destroy her.
This is the first book in this Amish thirller series and boy is it a good one! It is dark, graphic, scary and seemed so real at times but the mystery and characters make it worthwhile. I feel like I am right there with Kate while she is solving the case. So hard to put down! I am looking forward to the next book. I give it an A.
Room
by Emma Donoghue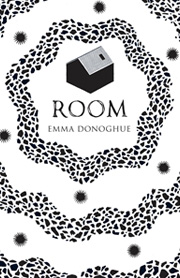 The story of a five-year-old called Jack, who lives in a single room with his Ma and has never been outside. When he turns five, he starts to ask questions, and his mother reveals to him that there is a world beyond the walls. Told entirely in Jack's voice, Room is no horror story or tearjerker, but a celebration of resilience and the love between parent and child.
(thanks to her website)
I won't lie, after the first 20+ pages I was seriously considering not finishing the book because the narrator (5 yr old Jack) is sort of hard to get used to and there are a couple weird details/scenes that I thought were unnecessary,especially for a 5 yr old. Anyways, I kept reading because I wanted to know how it ended and let me tell you that I am not disappointed and it even goes somewhere I wasn't thinking about. It is incredibly hard though to NOT feel for Ma and Jack and to root for them. I loved Ma's devotion, strength, love and determination and how she just wants better for Jack. A totally scary book that I had to read in one sitting because I didn't want to have nightmares without finishing it. Even though it was a bit annoying in the beginning I am glad I read it and would recommend it; I give it a B.
One Breathe Away
by Heather Gudenkauf
In the midst of a sudden spring snowstorm, an unknown man armed with a gun walks into an elementary school classroom. Outside the school, the town of Broken Branch watches and waits.
Officer Meg Barrett holds the responsibility for the town's children in her hands. Will Thwaite, reluctantly entrusted with the care of his two grandchildren by the daughter who left home years earlier, stands by helplessly and wonders if he has failed his child again. Trapped in her classroom, Evelyn Oliver watches for an opportunity to rescue the children in her care. And thirteen-year-old Augie, already struggling with the aftermath of a terrible accident that has brought her to Broken Branch, will risk her own safety to protect her little brother.
As tension mounts with passing each minute, the hidden fears and grudges of the small town are revealed as the people of Broken Branch race to uncover the identity of the stranger who holds their children hostage.
(thanks to her website)
Just like her previous two novels this one had me on the edge of my seat right away. A hard and rough situation to imagine, but her story-telling is beautiful. Had you trying to figure out who the gunman was til the very end; I loved all the characters and their journeys they went through. I was tearing up at the end reading about the dedicated teacher :) I give it an A.
But seriously, go read them all!
******
Happy Friday!