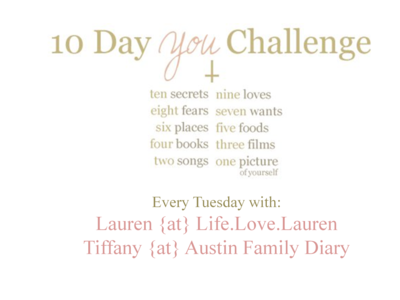 Thanks,
Lauren
and Tiffany!
Ten Secrets
When I read a book and need to stop/bookmark it, I have to stop on an even numbered page
I am scared that I will never having my own classroom/teaching job
The two vegetables I hate (but will still eat) are zucchini and asparagus
I hate being taken advantage of and I hate when people don't put in as much effort into a relationship as I do
I can be passive-aggressive when I am mad
Clowns freak me out
I am a sucker for a Lifetime or Hallmark channel movie
I am not stuck to my phone 24/7. I will usually have my phone off when I am home and just want to relax.
Before I go out to eat I will check the menu online and decide on what to order
I usually keep my toes painted for weeks and weeks because I am too lazy to take it off :)
******
What are your secrets?