I just now realized that both my books feature letters written to/from people in the main plot and title....funny!
Anyways...
Postcards from Berlin
by Margaret Leroy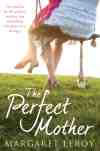 When Catriona's eight-year-old daughter falls ill, she does everything in her power to make her well again, only to find that the doctors suspect her of causing the illness herself.
(from her website)
I liked this story even though I thought the beginning was a little rough;it took me a bit to get into the whole story. I felt bad for the Mom throughout the whole book,she is a strong woman and mother and fights for what she knows is right yet her husband is a jerk. And the doctors just ignore her and write her off as crazy because of her sad past. I give this a B. (Also I was incredibly fascinated to learn that this story was based on Margaret's own situation!).
Letters from Home
by Kristina McMorris
Chicago, 1944
.
Liz Stephens has little interest in attending a USO club dance with her friends Betty and Julia. She doesn't need a flirtation with a lonely serviceman when she's set to marry her childhood sweetheart. Yet something happens the moment Liz glimpses Morgan McClain. They share only a brief conversation - cut short by the soldier's evident interest in Betty - but Liz can't forget him. Thus, when Betty asks her to ghostwrite a letter to Morgan, stationed overseas, Liz reluctantly agrees. Thousands of miles away, Morgan struggles to adjust to the brutality of war. His letters from "Betty" are a comfort, their soul-baring correspondence a revelation to them both. While Liz is torn by her feelings for a man who doesn't know her true identity, Betty and Julia each become immersed in their own romantic entanglements. And as the war draws to a close, all three will face heart-wrenching choices, painful losses, and the bittersweet joy of new beginnings.
(from her website)
As I have said before I love a good love/romance story and a good historical fiction aspect as well so this book was perfect. A great enjoyable read that had me hooked from the first few pages. I liked that there were four different points-of-view and how each character's situation was different yet similar. Had me looking forward to the ending (but in a good way!). I give it an A.
******
Happy Friday!
Don't forget to link-up with
Heather
!