Nothing better for this 4th of July than:
Marcus Luttrell's
Service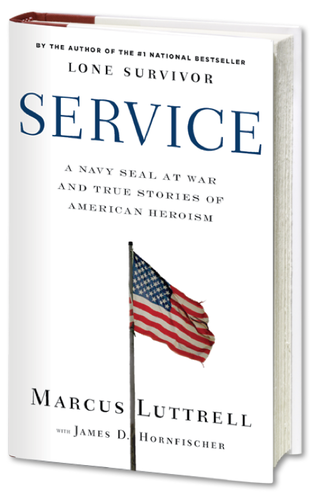 Navy SEAL Marcus Luttrell, author of the #1 bestseller Lone Survivor, tells his own extraordinary war stories—and those of others who have chosen to serve.
In October 2006, after miraculously returning from his star-crossed mission in Afghanistan, Marcus Luttrell went back to war. in six months of high- intensity urban fighting in the most dangerous city in the world, Ramadi, iraq, he was part of one of the greatest victories in the history of the SEAL teams.'
(thanks to his website)
Wow, I couldn't put Lone Survivor down and the same can be said for this book. So insightful and full of honor and pride. I loved that Marcus included some SEAL wives' takes on their husbands' jobs. I really enjoyed reading more about Redwing and how Marcus came home and lived again;and I liked reading more about Morgan and how his SEAL time was going. "And along that path,some of our very best people lose their own lives. It's the ultimate price that some pay to serve. And in serving in that way-laying everything they have on the line,live or die-all of them stand as heroes. Imagine our world if everyone lived by their creed" (277). I give this book an A!!
******
Happy 4th!! Happy Birthday,America!