This week,I read:
Linda Castillo's newest novel,
Her Last Breath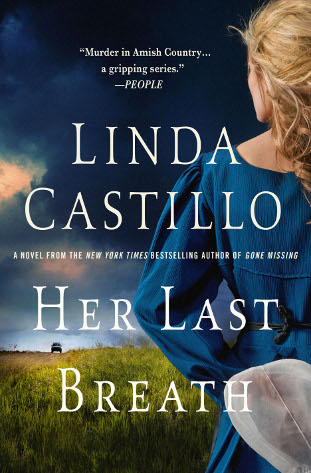 A rainy night, an Amish father returning home with his three children, a speeding car hurtling toward them out of nowhere.
What at first appears to be a tragic, but routine accident becomes personal for Chief of Police Kate Burkholder when she discovers that the victims are the husband and children of her childhood friend, Mattie. The Amish woman's youngest son clings to life in the intensive care wing of a hospital, unable to communicate, and he may be the only one who knows what happened. As Kate delves into the case, she comes face to face with her Amish past and memories of growing up with Mattie, an extraordinary beauty whom trouble has always followed. The investigation takes on a more sinister cast as evidence emerges that nothing about the crash was accidental.

Desperate for answers, Kate begins to suspect she's not looking for a reckless drunk who fled the scene of a brutal hit and run, but instead she finds herself on the trail of a stone cold killer living amid the residents of Painters Mill. It is a search that takes her on a chilling journey into the darkest reaches of the human heart and makes her question everything she has ever believed about the Amish culture into which she was born.
(thanks to her website)
I gobble up and become so engrossed in any of Linda's novels,and this was no different. Although it isn't as dark or graphically disturbing as her previous novels,it still is intense and leaves you guessing and shocked. I liked the Kate's past issue story line,too,we get to see the resolution. Also,I love the depth and change in Kate and Tomesstti's relationship. A good read,I give it an A.
******
Happy Friday!