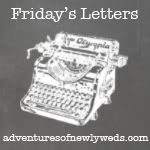 Dear December,
hello! you sure came around rather quickly!
Dear Mom,
happy birthday!!
Dear Elementary and Person of Interest,
you are rocking my tv viewing! I anxiously await your weekly arrival.
Dear short-non fat-no whip-peppermint-mocha,
what a lovely friday morning treat you are.
Dear Weekend,
you are looking to be fantastic and fun-filled, I can't wait.
Dear Cold,
glad you are practically gone and I am almost 100% again.
Dear Bman,
you made me laugh so hard when I asked you to clean up your superheroes and you did it but kept saying "are you kidding me?" while doing it :)
Dear Besties,
sunday downtown + the christkindl market will be so fun!!
Dear Christmas,
I am gearing up for you, I can't believe you are a little over two weeks away.
Happy Friday!