Thanks as always to the awesome Heather and Katie!
Don't Breathe a Word
by Jennifer McMahon
One summer night in Vermont, 12-year-old Lisa went into the woods behind her house and never came out again. Before she disappeared, she told her little brother Sam about a door that led to a magical place where she would meet the King of the Fairies and become his queen.
Fifteen years later, Phoebe is in love with Sam , a practical, sensible man who doesn't fear the dark and doesn't have bad dreams—who, in fact, helps Phoebe ignore her own. But suddenly they are faced with a series of eerie, unexplained occurrences that challenge Sam's hard-headed, realistic view of the world. As they question their reality, a terrible promise Sam made years ago is revealed and could destroy them all.
(thanks to her website)
This book had such promise and I thought it would be better than it actually was. When I finished I was more confused and annoyed than ever. I did,however, like how the story was told from past and present characters and the overall plot was interesting until it got wacky. It was hard to tell towards the end what was real and who was telling the truth;I just was more creeped out by the outcome. I give it a D.
Julie Garwood's
Sweet Talk
When FBI agent Grayson Kincaid first encounters Olivia MacKenzie, she makes quite an impression.
The beautiful, tough, young attorney has stumbled into the middle of an FBI sting operation and has reduced it to chaos. Months of surveillance and careful planning down the drain, Kincaid's partner is furious and lets Olivia know that she's ticked off the wrong guy. After all, he's FBI.
Olivia isn't intimidated by his partner's bullying because she's something even scarier...she's IRS. And working for the IRS isn't for the faint of heart. She's on the trail of an elaborate Ponzi scheme, one that threatens to ruin the lives of naive and unsuspecting victims, and one she has personal reasons to be angry about. But after she asks questions of the wrong people, her life is suddenly endangered. She's accustomed to fighting for the underdog but being vulnerable herself is a very different story. Smart enough to know when she need reinforcements, she looks to Grayson Kincaid.
Together they make an excellent team to fight corruption, but Olivia is also fighting the immediate and intense attraction she feels for Agent Kincaid, and that may be a battle she is bound to lose.
(thanks to her website)
Oh man I have seen/heard of her before but this is my first time reading her work (the librarian insisted I read it) and I am hooked now! I really loved the romance and mystery aspects and the characters are fun, life-like and not too super annoying. The intimate details were a tad bit too much at times but you could definitely feel the passion and love between Grayson and Olivia. I liked the twists and turns and the friendship between the four women as well. It was an enjoyable,fast read;I give it an A.
The Vow by Kim and Krickitt Carpenter
Less than ten weeks after their wedding, their vows were put to the ultimate test. A near fatal car crash would change everything. Kim and Krickitt both critically injured but Krickitt sustained far worse long term injuries. The car's roof collapsed around Krickitt and fractured her skull. She hung upside down for 70 minutes before rescuers were able to free her. The doctors doubted she would survive.
Within five days she was off life support but remained in a coma. As Krickitt was awoken by doctors 21 days later, Kim soon discovered that she would never be the same. The trauma to her brain caused retrograde and posttraumatic amnesia--erasing from her memory virtually all of the 18 months prior to the accident and 4 months after. Kim was heartbroken the day he heard his wife say she wasn't married. She had no memory of her husband either in her head or in her heart.
(from their website)
This is a super quick read but the love,dedication and faith stays with you for a long time. I saw the movie when it came out (hello, Rachel McAdams and Channing Tatum) and I have heard that the book was just as good. I will admit though that I found the movie and book to be drastically different yet both really good and they held the same theme of love/dedication. I liked learning more about Kim and how he was able to handle the whole accident and caring for his wife. I must say that their love is something amazing! A sweet,true story;I give it an A.
Linda Castillo's Gone Missing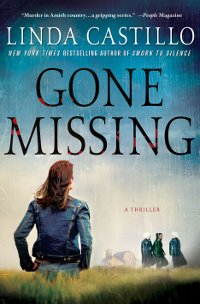 Rumspringa is the time when Amish teens are allowed to experience life without the rules. It's an exciting time of personal discovery and growth before committing to the church. But when a young teen disappears without a trace, the carefree fun comes to an abrupt and sinister end, and fear spreads through the community like a contagion.
A missing child is a nightmare to all parents, and never more so than in the Amish community, where family ties run deep. When the search for a presumed runaway turns up a dead body, the case quickly becomes a murder investigation. And chief of Police Kate Burkholder knows that in order to solve this case she will have to call upon everything she has to give not only as a cop, but as a woman whose own Amish roots run deep.
Kate and state agent, John Tomasetti, delve into the lives of the missing teens and discover links to cold cases that may go back years. But will Kate piece together all the parts of this sinister puzzle in time to save the missing teen and the Amish community from a devastating fate? Or will she find herself locked in a fight to the death with a merciless killer?
(thanks to her website)
As I have said for her last three novels in this series, I can't get enough! I love the characters and the cases/mysteries are bone chilling and suspenseful. This books is no exception,although it was quite shorter than her other works...fun seeing Kate out of her own little town for a bit and trying to figure out the case of missing Amish girls. Had me guessing til the end! I give it an A.
******
Happy Friday!!