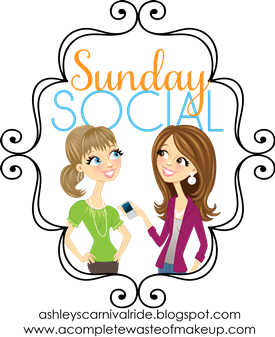 Thanks to Ashley & Neely as always!
If you could only eat one thing for the rest of your life, what would it be?
Pasta! So many different options/types and sauce combos.
What's your guilty pleasure/comfort food?
Guilty pleasures:I love chips & dip/salsa, Reese's pb cups or peanut butter mms. or a grande Starbucks frapp.
What's the weirdest/craziest thing you've ever eaten?
Sushi or fried octopus...I am not that adventurous but I will usually try anything once (especially if you don't tell me what it is first lol).
What foods do you avoid at all costs?
Shellfish;I am just not a fan of lobster,crab.shrimp. The texture is gross and there isn't much flavor.
What meal reminds you of your childhood?
Home made Mac n Cheese, a happy meal from McDonalds (when it was a special occasion lol), tuna noodle bake.
Share one of your favorite recipes and the story behind it.
My Aunt M's cheesy egg souffle:
It is basically 8 slices of (frozen) white bread that that you butter then cube. Mix eggs,milk,some salt/pepper and dry mustard together. Grate cheddar cheese then alternately layer the bread and cheese in a baking dish until all used. Pour the egg mixture over the whole thing; refrigerate it overnight or for a few hours before you bake it. DELICIOUS!
We eat this every Christmas morning, every Good Friday for dinner, and any other special family get together. So gooey,cheesy and easy! Probably one of the first recipes my siblings and I learned to make growing up :)
Here is a very
similar recipe
I found for it. Although we don't use red pepper, we bake it for one hour and we keep the crust on the bread.
******
Happy Sunday!