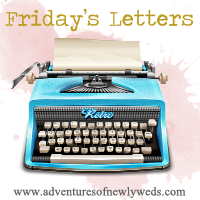 Dear Summer vacation
where have you gone? I cannot believe it is the middle of August already and work is starting next week.
Dear Lord,
thanks for blessing me with what I have and keeping me content to follow YOUR plan even if I am confused by it at times.
Dear Bestie P,
thanks for a fun Wednesday night out!
Dear Running
, sorry it has been a bit since I last accomplished you;I only have myself to blame.
Dear B & K
, I am so darn excited for your wedding over Labor Day!! I am so happy for you guys and to be able to celebrate with you both and with the family is even better.
Dear Cool Weather
,thanks for sticking around for a few days although it just makes me hunger for Fall even more.
Dear Self,
it will all work out in the end. it will all work out in the end. it will all work out in the end.
Dear The Glades,
your season finale was good, I loved the ending with Jim and Callie! She better not hurt him though.
Dear Summer tv show (longmire, burn notice, suits, white collar, covert affairs, rizzoli & isles) ,
your endings were fun and entertaining;I am looking forward to your Fall/Winter returns.
Dear iced coffee + PEOPLE magazine,
what a great way to ring in a Friday!
Dear Pizzaiola burgers I made last night,
you were so darn delicious; Giada wins again!
Dear Jill from GreenTea Jewels
, I adore my most recent purchase just as much as my other necklaces. I am excited to make another purchase soon.
******
Thanks,
Ashley
!
******
Happy weekend,All!