Thanks to the wonderful Heather and Katie!
This week I read:
Linda Castillo's
Pray for Silence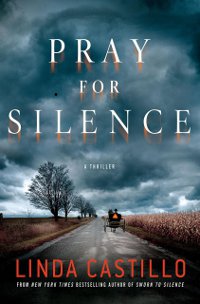 The Plank family moved from Lancaster, Pennsylvania, to join the small Amish community of Painters Mill less than a year ago and seemed the model of the Plain Life—until on a cold October night, the entire family of seven was found slaughtered on their farm. Police Chief Kate Burkholder and her small force have few clues, no motive, and no suspect. Formerly Amish herself, Kate is no stranger to the secrets the Amish keep from the English—and each other—but this crime is horribly out of the ordinary.
When she discovers a diary that belonged to one of the teenaged daughters, Kate is shocked to learn the girl kept some very dark secrets and may have been living a lurid double life. Who is the charismatic stranger who stole the young Amish girl's heart? As Kate's outrage grows so does her resolve to find the killer and bring him to justice—even if it means putting herself in the line of fire
.
(thanks to her website)
Another dark, graphic and nightmare-giving story yet I couldn't not keep reading. I loved the characters of Kate and John along with the other trust police officers from the first book. A sad story but I can see how it may relate to something nowadays. It still amazes me that Linda is a woman writer because her language usage and disturbing details are more male-esque and then a few pages later she is talking emotions,love and romance like a true woman :) I am looking forward to the third installment of this series. I give this an A.
Barbara Delinsky's
The Secret Between Us
It is about a lie gone wrong, about making bad choices for the right reasons. This book explores the limits of responsibility – mother to daughter, daughter to father, husband to wife. It examines the price that we pay for denying the truth.
(thanks to her website)
An interesting read but halfway through I started skimming because it was more-so repetitive and I was tired of poor Grace feeling guilty and of Dylan being annoying. A bit long too and it went in places it didn't really need to go. I give it a C.
Barbara Delinsky's
First, Best,Only
A passionate tale of love, tragedy and forgiveness by a best-selling author - Marni Lange was just seventeen when she fell passionately in love with the irresistibly sexy Brian Webster. Then a tragic accident tore them apart. Fourteen years later, Marni is now a successful businesswoman, about to appear on the cover of a national magazine – and come face-to-face with the world-famous photographer profiling her . . . Brian Webster. As Marni struggles with her attraction to the man who haunts her past, is she now brave enough to follow her heart and fight for what matters most?
(thanks to amazon)
A sweet romance story and idea. A bit too descriptive of the intimate scense though (for my personal liking at least...). I loved the strength of Marni and how she stood up to her parents no matter what,because she wanted to be happy. And I loved how Brian gave her room and time and never really made her feel bad or rushed. I give it a B.
Alyson Richman's
The Lost Wife
Josef Kohn is a successful New York obstetrician who still dreams of his first wife, Lenka, an art student he left behind in Czechoslovakia while fleeing the Nazis.
Lenka, who he believes died during the war, continues to haunt his dreams, while his second wife, Amalia, remains more of a ghost to him than is Lenka. As we follow Lenka's journey to the ghetto of Terezin, where she is forced to draft technical drawings for the Germans and is a witness to the secret paintings of an underground group of artists involved in their own form of resistance against their captors, we see not only the endurance of the human spirit, but also of the artist, whose desire to create and document, cannot be extinguished.
From the glamourous ease of pre-War Prague, to the ensuing horror of Nazi Europe, we witness both the dawning of Lenka's and Josef's love affair to its tragic unravelling. Each character must forge their own path for survival and each must struggle to adapt to post-war America, while their secrets, their past, and the ghost of their first marriage, are known only to them.
The Lost Wife is a story that explores the depth — the power — of first love, the resilience of the human spirit, and our capacity to remember.
(thanks to her website)
I really loved this book;I am a sucker for a War/history + romance tale. Set in Prague during the start of world war ii, this story is from both male and female characters' perspectives and it travels back in time. An enjoyable and sad read that I couldn't put down, I wanted to follow their love story and discover how they were separated and both emigrated to America after the Holocaust. I give this a solid A,
******
Happy Friday!