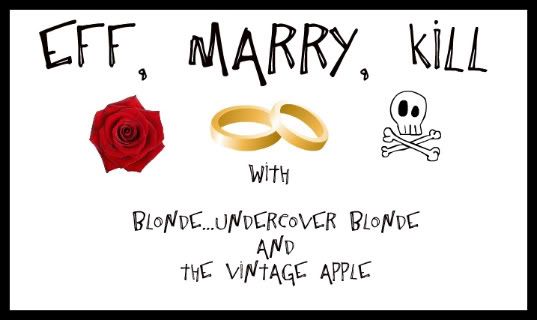 Woo-hoo! thanks,
Heather
and Michelle! I love this link-up because it is pure fun and enjoyment :)
My three picks for this round come from my newest favorite tv show,
friday night lights
.
Since it is a no-brainer that Kyle Chandler is the best guy to marry I will pick from the football team to make things more equal...
Eff :Tim Riggins
Although his hair always looked greasy he sure seemed to be a fun time and I was always rooting for him!
Marry:Matt Saracen
He was just so sweet,honest,romantic,lovable and was a great artist! He didn't really care about football as the long run and was focused on his grandma/family. Had heart!
Kill: Smash Williams
Ugh,he was annoying on so many levels and so self-centered/cocky/selfish. No thank you!
******
thanks,google images...
******
Happy Thursday!