Boob Tube Babble time with
Neely
and Amber!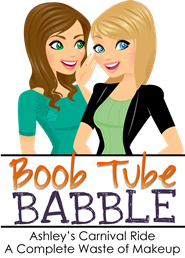 There were new episodes this week of:
Leverage:
A fun show to watch and it is just like watching Ocean's 11. A good cast and lots of humor and sneaky tricks to keep you guessing while the bad guys lose and the good guys (usually) win. (It airs sunday nights on tnt)
Rizzoli & Isles:
I am a sucker for a good cop show and murder mystery. I like Angie Harmon's character, Jane, a tough boston cop and her best friend Maura who is a very smart pathologist. Although Jane's mother can become quite annoying. (On monday nights on tnt)
The Closer:
This series is almost over but it still is enjoyable. Again, I stick with the strong female characters, good cast and a cop drama. (Also on monday nights on tnt)
******
Happy Friday! Happy TV watching!
What have you watched?