What have you been watching? Tell everyone over on
Neely
and Ashley's blogs!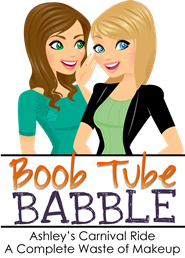 This week marked the return of a couple of my favorite USA network shows:
Covert Affairs
and
Burn Notice
. Both of these are fun, light, interesting and comical. Plus I have always wanted to be a spy and they are both sort of about being a spy :)
Covert Affairs
(on tuesday nights)
Sure this is cheesy at times but I am a sucker for a tough woman character. I have watched this show since its beginning and I simply enjoy it. I love the main character (Annie) and her co-worker, Auggie, and I love that it is all about being a spy/cia member. I am however still annoyed with Annie's sister because she really overreacted....but I won't spoil it for others....anyhow. If you have "extra" time, give this show a viewing.
Burn Notice
(thursday nights)
This is a show that my Dad got me into and I LOVE it; I don't know why exactly but it is just pure fun to watch...a little action/drama/romance/mystery all in one hour! It is about a burned spy (Michael Weston) who now resides Miami and is trying to figure out who/why he was burned. And of course he is a good guy who helps other people (you know, normal-everyday types) fix their problems. Oh and I wish I could be Fiona because she is one fit-and-tough-as-nails woman! Although it has become a little too ridiculous with all of these separate people that are involved in Michale's burned-spy-status so I hope this latest one is truly the last. I return every week because I love the characters (Sam, Jesse and of course Mike's mom,Madeline) and their new problems/situations they have to solve and the people they help.
Prime Suspect
(thursday nights on usa)
There is just something about this show that intrigues me; I mean it reminds me of
The Closer
since it centers around a strong,smart,tough female cop/detective yet it is still refreshing. It does irk me though how some of the male cops still treat Jane like garbage. And I like that it is set in NY...a cop show set in Ny, now there is something new :)
And last but not least....the season premiere (finally!) of...
Bones
(thursday nights on fox) SPOILER ALERT!
I will be the first to admit that I was not very thrilled with the idea of a Booth + Bones baby, I thought it was sort of thrown together all of a sudden and I figured it would be an awkward situation. However, I was thoroughly pleased with the fact that Booth and Bones are indeed going to have a bay AND they are actually in a true boyfriend/girlfriend relationship! And I like that it is still the same old chemistry while they are working cases together. I am thrilled; it shows a more "human" side of Bones that I didn't think she was capable of. I love that they actually admit (frequently) that they love each other and want to have a good life together-finally!! I just hope that this baby turns Bones into less of a robot because for someone who is so very smart/a genius she sure doesn't learn how to talk to/treat/react towards or with people sometimes and it has gotten on my nerves over that last few seasons. Thanks for a great season premiere, bones!