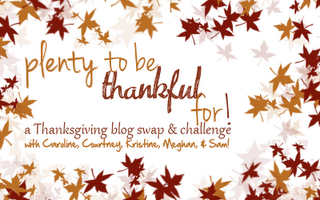 Day 4: Blogoverse
I love my blog and all that it has led me to. I spend a lot of time reading other blogs and linking-up with awesome bloggers.
Here are some of my favorite reads (although you can see all my blog loves on my left sidebar...)
Enjoying the Small Things
Food Life and Love
Matt, Liz & Madeline
Our Journey of Love
Kelly's Korner
Little Pastures
Twice Blessed
Life with Triplets
Um, can you not?
******
Thanks
Caroline
& Ladies!