Since Thanksgiving is just over one week away
Caroline
and a couple other lovely bloggers created a "Plenty to be THANKful for" daily blog link-up....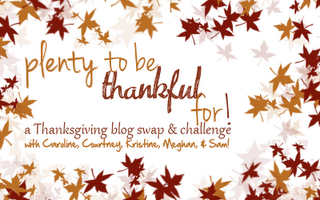 Day 1: Guilty pleasures
I have a few guilty pleasures I am thankful for :)
1. Goldfish crackers (original or cheddar)
2. Pepsi (I have one a week,if at all...)
3. Chocolate
4.People magazine
5. Weekly tv shows (and my dvr since I watch too many)
6. Blogs
7. Danielle Steele novels/other chic lit
8. Watching Regis & Kelly
9. Coffee/Starbucks
******
What are your guilty pleasures that you are thankful for?