Marcus Luttrell's
Lone Survivor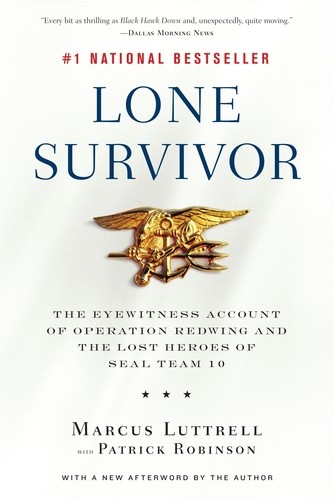 Four US Navy SEALS departed one clear night in early July 2005 for the mountainous Afghanistan-Pakistan border for a reconnaissance mission. Their task was to document the activity of an al Qaeda leader rumored to be very close to Bin Laden with a small army in a Taliban stronghold. Five days later, only one of those Navy SEALS made it out alive.
(from his website and amazon.com)
Wow,this book was amazing;a deep,real,intense,powerful,moving story of the heroes that fight for our Country. It had me in tears in a couple parts and it truly opened my eyes to how tough the SEALS are and how important their brotherhood and pride in America is. My Dad also read this book (he is a Vietnam Vet) and it brought him to tears and he said it was one of the best war books he has read. God Bless Marcus,Axe,Danny,Murph,Shane, Kristensen,James,Senior,Jeff,Jacques,Taylor and Mac. You have such a vivid picture of all that is going on in the Hindu Kush Mountains while reading but it is never too much,it is just raw. This book is a book that will stay with you for a long time,it more than a war story...it is friendship,devotion,love and honor. I give this an A.