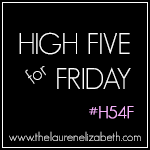 Thanks,Lauren!
This week:
1. Having a helper set the table!
2. The bman and I up to our old antics
3. Lovebug #2 making a fruit smoothie after school
4. Sun reflections on the door
5. A short work week while I switch gears to Lovebug time 24/7 for the weekend;so far so good! First night went well and all the kiddos were on time to school this morning!
******
Happy Friday!