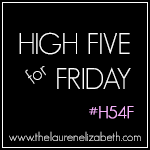 1. It is finally friday,this week was LONG and a bit wacky so this weekend is much needed.
2.Drinking my coffee in my candy cane striped cup,it is the little things :)
3. tonight:
elementary.hawaii five o and blue bloods
plus pancakes and fruit
4.coffee with the Besties tomorrow!
5.One of my pre-k kiddos asked me yesterday, "Ms. Victoria,can I bring you chocolate?" My answer,"yes please! You can always bring me chocolate." :)
******
Hooray for Friday!!!