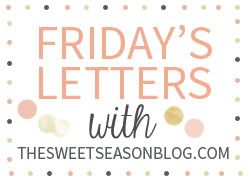 Dear Blackhawks
good luck tonight;game two of the first round in the playoffs!
Dear May
when did you arrive?!
Dear Besites
even though our Sunday plans have changed,we will still have fun hanging out and watching the Bhawks game
Dear Weather
why did you have to go back to being coldy and cruddy for the weekend?!
Dear Short-non fat-carmel machiatto
you were a tasty treat this morning
Dear Kohls
thanks for the new gym shoes!
Dear California
in just over a month, I will be gracing you with my presence, I am stoked :)
******
Happy Friday!