Well,this week my book choices were on the sad,depressing,serious side...sometimes that just happens. But now I want something lighter and happier.
Fly Away
by Kristan Hannah
Tully Hart has always been larger than life, a woman fueled by big dreams and driven by memories of a painful past. She thinks she can overcome anything until her best friend, Kate Ryan, dies. Tully tries to fulfill her deathbed promise to Kate---to be there for Kate's children---but Tully knows nothing about family or motherhood or taking care of people.
Sixteen-year-old Marah Ryan is devastated by her mother's death. Her father, Johnny, strives to hold the family together, but even with his best efforts, Marah becomes unreachable in her grief. Nothing and no one seems to matter to her . . . until she falls in love with a young man who makes her smile again and leads her into his dangerous, shadowy world.
Dorothy Hart---the woman who once called herself Cloud---is at the center of Tully's tragic past. She repeatedly abandoned her daughter, Tully, as a child, but now she comes back, drawn to her daughter's side at a time when Tully is most alone. At long last, Dorothy must face her darkest fear: Only by revealing the ugly secrets of her past can she hope to become the mother her daughter needs.
A single, tragic choice and a middle-of-the-night phone call will bring these women together and set them on a poignant, powerful journey of redemption. Each has lost her way, and they will need each one another---and maybe a miracle---to transform their lives.
An emotionally complex, heart-wrenching novel about love, motherhood, loss, and new beginnings, Fly Away reminds us that where there is life, there is hope, and where there is love, there is forgiveness.
(thanks to her website)
I love her novels and I remember crying during
Firefly Lane
so I was looking forward to reading what happened to the characters after that novel ended. Well, for about 98% of this book I was sad and kept toying with the idea of just plain stopping. What a dark hole these characters were in for some many years after Kate's death! And none of them had anyone to stand up to them and tell them to wake up,they all pretty much had to learn it the hard way. It made me frustrated too because if Dorthy had just talked to her daughter about life and problems then perhaps Tully would have been alright and she would then have been able to help Marah and even Johnny. A predictable ending but at least that was the happiest part of the whole book. Decently written but it was just too sad and such a rough emotional ride for my overall enjoyment;I give it a C.
The Storyteller
by Jodi Picoult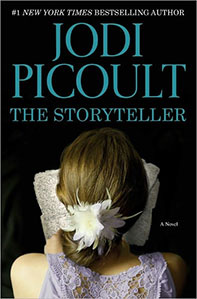 Sage Singer is a baker, a loner, until she befriends an old man who's particularly beloved in her community. Josef Weber is everyone's favorite retired teacher and Little League coach. One day he asks Sage for a favor: to kill him. Shocked, Sage refuses—and then he confesses his darkest secret – he deserves to die because he had been a Nazi SS guard. And Sage's grandmother is a Holocaust survivor. How do you react to evil living next door? Can someone who's committed truly heinous acts ever atone with subsequent good behavior? Should you offer forgiveness to someone if you aren't the party who was wronged? And, if Sage even considers the request, is it revenge…or justice?
(thanks to her website)
Alright, Jodi's last few books have stunk (in my opinion) but I wanted to try this newest one because of the World War II/Holocaust theme and to see what she did with it all. I was rather disappointed with the fact that there was no trial (in all her books she has a trial of some sort...) and halfway through,when we get to Minka's story I completely forgot about the rest of the characters and their stories,I was roped into Minka's life during the Holocaust. I feel like this book became a history lesson and a depressing yet raw and real reliving tale of having to endure the atrocities of the concentration camps. Sure, Jodi did tons of research and of course it was well written and descriptive,but I didn't really want to be thrown into this type of setting in the middle of the book,when I forgot about Sage and even Leo. I kept reading because I wanted to see what would happen to Josef/Reiner but it was a rather tough journey there. I give this a C,too.
******
Happy Reading!