The Shadow Side
by Linda Castillo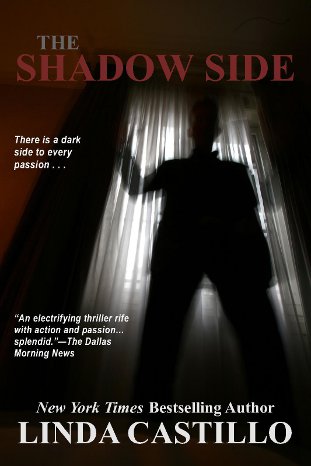 There is a dark side to every passion . . .
Cases of random violence have erupted across the country--murderous acts committed by previously non-violent people. Detective Adam Boedecker, grieving brother to one of the suicide-murderers, has discovered that all the suspects had taken a new breakthrough anti-depressant, Valazine.
Elizabeth Barnes has devoted her heart and soul to pharmaceutical research. She's at the top of her game and slated to be awarded top honors for her latest breakthrough drug. Until a detective contacts her about a recent wave of homicides.
At first, Eli dismisses it as the wild accusations of a grieving, burnt-out cop. But after another mysterious death, and some investigating of her own, Eli realizes that this intense, driven man may be the only one who can stop the killings . . . and save her from the dark side of her work.
(thanks to her website)
I saw this whole plot coming from the very beginning, nothing surprised me while reading. My least favorite of Linda's actually because it was just what I thought it would be. Just alright, flawed characters but they seemed real and still human. I give it a C.
Overkill
by Linda Castillo
It started with a case so horrific it sent Chicago cop Marty Hogan straight over the edge. Unable to put her disturbing memories behind her, she lost her job and was forced to flee to small-town Texas, to the only police department that would hire her.
She's about to learn you can't outrun the past . . .
Police Chief Clay Settlemeyer knows something about making mistakes, which is why he was willing to give Marty a second chance. But when her ex-partner is brutally murdered, it's clear that Marty's past has come back to haunt her.
And she's the next intended victim . . .
(thanks to her website)
Fast read and decent characters, the usual dark + romantic + bit of violence + mystery that I adore from Linda Castillo. Although I felt that the ending ended too quickly,there were a couple details I still wanted to read about. It also sort of reminded me of the show,
Longmire
. I give it an A.
Gone Girl
by Gillian Flynn
On a warm summer morning in North Carthage, Missouri, it is Nick and Amy's fifth wedding anniversary. Presents are being wrapped and reservations are being made when Nick Dunne's clever and beautiful wife disappears from their rented McMansion on the Mississippi River. Husband-of-the-Year Nick Dunne isn't doing himself any favors with cringe-worthy daydreams about the slope and shape of his wife's head, but hearing from Amy through flashbacks in her diary reveal the perky perfectionist could have put anyone dangerously on edge. Under mounting pressure from the police and the media—as well as Amy's fiercely doting parents—the town golden boy parades an endless series of lies, deceits, and inappropriate behavior. Nick is oddly evasive, and he's definitely bitter—but is he really a killer? As the cops close in, every couple in town is soon wondering how well they know the one that they love. With his twin sister Margo at his side, Nick stands by his innocence. Trouble is, if Nick didn't do it, where is that beautiful wife? And what was left in that silvery gift box hidden in the back of her bedroom closet?
(thanks to her website)
Oh man when I finally got this book from the library I couldn't wait to start it and I was hooked from the first few pages. I was always questioning Nick's story and I loved how both characters threw out little clues and variations of the same event. I couldn't tell how it was all going to end and that made me crazy :) Well written, sorta too long though, some strange details that weren't that necessary to the story would pop up and it was a bit rambling at times. This book had me thinking and nervous well after I was done reading,realyl good! I give it an A though.
******
Happy Reading!