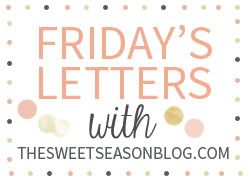 Thanks,Ashley!
Dear Weekend
, you are going to be busy but oh-so fun of family and celebrating.
Dear Lovebug #2
,I can't believe you are having your First Communion,when did you get so old?
Dear Elementary & Hawaii Five-O
,you rock,I am soaking up your new episodes.
Dear Mom & Dad
,thanks for showing us how a marriage can make it work and last for 45 years;Happy Anniversary (tomorrow)!!
Dear Blackhawks
,your regular season is ending tonight and boy did you make a big statement this season;keep up the great playing for the post season!
Dear morning cup of coffee
, yum :)
Dear Lisa Scottoline
,your newest book was just as awesome as all your others,thanks for keeping me entertained for two days!
Dear California Ks,
I am truly looking forward to my trip in June,we are going to have so much fun!
Dear all-the-school-districts-that-i-have-applied-to-for-the-hundredth-time
,please realize what an awesome teacher I am and what a fun asset I would be to your school. I
really
need/want a full-time teaching job!
Dear sunshine and warmer temps
,hello! It is about time you showed up here in Chicago :)
Dear March of Dimes' March for Babies
,you are going to be another great walk this Sunday,I just know it. And thanks to everyone who has helped me and my team try to make our fundraising goal! Every bit helps!
******
Happy Friday!