The best part of any awards show is seeing the gorgeous dresses/gowns. This year's Golden Globes did not disappoint;here are my favorites:
Connie Britton
(I just love all of this!)
Naomi Watts
(sleek and simple,yet stunning!)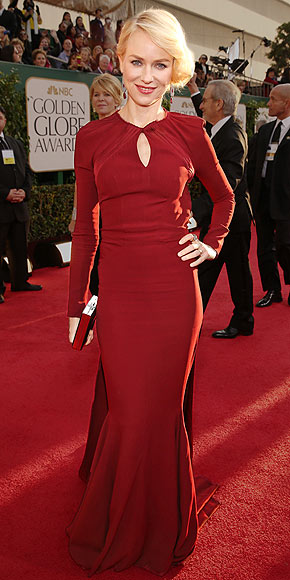 Michelle Dockery
(different yet not too much)
Jennifer Garner (
she never disappoints,always appropriate and elegant)
Thandie Newton
(cute and sexy sparkles!)
Hayden Panettiere (
subtle and elegant with a not-too-long-or-big train. Although she could have done something more with her hair...)
Claire Danes
(she looks a little freaky in this photo, but I love the red dress and the dash of sparkle along with the not-too-high-slit. And she just has a baby?!?)
Ariel Winter
(perfect and incredibly suitable for her age,cute yet not slutty!!)
Benedict Cumberbatch
(hello, Sherlock Holmes! He looks extra dapper!)
Bradley Cooper
(he can never do wrong)
(thanks to people.com for all the photos!)
******
Happy Monday!