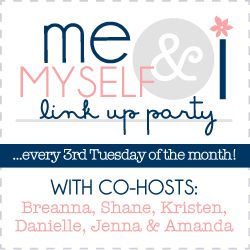 Thanks to all the lovely hosts!
1. What are your top 5 favorite movies to watch during the Holidays?
Elf
Home Alone
A Christmas Story
The Family Stone
National Lampoon's Christmas Vacation
Four Christmases
(
a solid contender,I love Vince Vaughn and Reese Witherspoon)
2. It's the month of giving thanks, what are you most thankful for?
Supportive family
Supportive friends
An enjoyable job that pays my bills
My health
My home
The blessings He gives me with each day
3. If there was a quote or verse to describe your life, what would it be?
Everything happens for a reason
4. Who in your family are you most alike?
Probably my Mom or my older brother MR
5. What is your favorite drink order at Starbucks?
I have a few for different times of the year :)
Holiday time: Non fat, no whip Peppermint Mocha
Fall time: Non fat, no whip PSL
Summer: Non fat Iced Carmel Machiatto
Any time: Iced coffee with cream no sweetener
Fun drink: Non fat, no whip Raspberry Mocah
Don't judge, I like to mix it up throughout the year :)
******
Happy Tuesday!