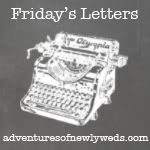 thanks,Ashley!
Dear Loft
thanks for the cute tops/sweater that were on great sales,i LOVE them all.
Dear PSL,
you make my friday morning that much better.
Dear Pancakes and Eggs,
you were such a tasty dinner last night,glad I made you.
Dear Besties,
I am looking forward to our coffee date tomorrow!
Dear October,
where have you gone?! Fall is flying by!
Dear Halloween,
I am not a big fan of yours but I do like handing out candy to the trick-or-treaters
Dear Target,
it has been a week since my last visit...maybe Sunday I will stop by again :)
Dear gas prices,
thanks for going down again!
Dear Weekend,
you are going to be fun and calm,perfect!
******
Have a great weekend!