Thanks,Heather and Katie!
This week I read:
Elizabeth the Queen
by Sally Bedell Smith
In this magisterial new biography, New York Times bestselling author Sally Bedell Smith brings to life one of the world's most fascinating and enigmatic women: Queen Elizabeth II.
(thanks to her website)
I thought this was a detailed (sometimes too detailed,dull) account of the Queen's life that I found interesting. I liked learning more about the role of the Monarch, how things work there, what the Queen does, what the Queen is like with her family/friends, how she dealt with public issues, how she has reigned for 60+ years. I also enjoyed learning that she is a rather religious person and how she grew up as the King's daughter. Long but rather worth it,gives a more personable look at the Queen. I give it a B.
Happy Ever After
by Nora Roberts
As the public face of Vows wedding planning company, Parker Brown has an uncanny knack for fulfilling every bride's vision. She just can't see where her own life is headed. Mechanic Malcolm Kavanaugh loves figuring out how things work, and Parker is no exception. Both know that moving from minor flirtation to major hook-up is a serious step. Parker's business risks have always paid off, but now she'll have to take the chance of a lifetime with her heart.
(thanks to her website)
The last installment in the Bride Quartet, and it doesn't disappoint with sweetness and romance. Parker was my favorite out of the four women,I think I just relate more with her so it was fun to see how she dealt with Malcolm. I liked seeing Mac's wedding at the end and looking back at how all four women got through the past year. A fast and fun read;I give it an A.
Linda Castillo's
The Perfect Victim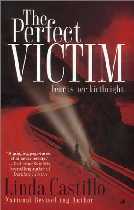 Despite a happy childhood, successful entrepreneur Addison Fox has always yearned to find her birth mother. And with the unexpected death of her adopted parents comes a renewed determination to fill in the missing pieces of her life—to find her "other" family. But she's too late.
Burnt-out from past investigations, Randall Talbot is looking for some relief while helping out at his brother's detective agency. But when Addison Fox walks in, he can't resist her plea for help—even though the cost is murder.
Addison is the sole survivor of her bloodline—a line that a killer is
determined to make extinct. And even if the world-weary Randall has little regard left for life, he may be the only man capable of saving hers.
I just had to laugh at the fact that this book was labeled "romance" and the first few pages are an intense, scary,graphic murder scene. If I had never read her books before I would have been shocked. Another dark,twisting story that has great characters to follow along with and feel for. Had me on the edge of my seat. I give an A.