Thanks,Ashley!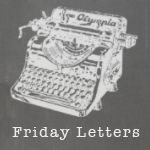 Dear Fall tv shows
I am so looking forward to watching you again and diving back into fun story lines with some of my favorite characters.
hawaii five-o,castle,ncis,blue bloods,bones,csiny,himym,the mentalist,hart of dixie....
Dear Pumpkin Spice Latte
I love ya,just another reason that Fall is my beloved season
Dear Fall leaves/trees
you are so pretty now that you are starting to change
Dear 5:00 am
you came quickly this morning but thankfully it is friday and I can sleep in tomorrow!
Dear Nora Roberts
I am so enjoying your books;a fun/sweet/romantic style of writing and enjoyable characters.
Dear cold
thanks for being pretty much gone except for a lingering cough...
Dear Bman
thanks for making me laugh,hearing you yell my name as you spotted me in the pickup lane at preschool this morning was precious. You looked so excited/proud/happy and big!
Dear Besties P &K
I am looking forward to our coffee date tomorrow!
Dear Target
thanks for finally stocking up your $1/$2.50 section with awesome Fall,Thanksgiving and Halloween decorations!
Dear Self
way to go with jumping back on the running bandwagon after a month off...that 5k is in one week!! eek!
******
Happy Friday & Happy Weekend!!