Here we go!
Sarah Strohmeyer's
Sweet Love
Like other well-meaning mothers, Julie Mueller's believed she did the right thing when she secretly ended her teenage daughter's crush on Michael Slayton, a wild older neighborhood heartthrob with a penchant for Shakespeare and the pedigree of trailer trash.
Twenty years later, Betty Mueller has come to realize that was a big mistake. Her daughter Julie – divorced and raising a teenage daughter alone – is a workaholic obsessed with her career. And Michael, the one man who could make her happy, is the one man to whom she won't speak.
Now dying and determined to make amends, Betty stages her last great feat of motherhood by reuniting the couple in a dessert class where she hopes the sweetness of a chocolate almond Torta Caprese will erase the bitterness of a wretched misunderstanding.
(thanks amazon)
Another funny and sweet story by Sarah; I liked the characters and their stories. It was a great story of love,family,redemption and mothers/daughters. Plus I like to bake so it was fun reading about a baking class and different desserts. A quick read; I give it a B.
Jodi Picoult's
Lone Wolf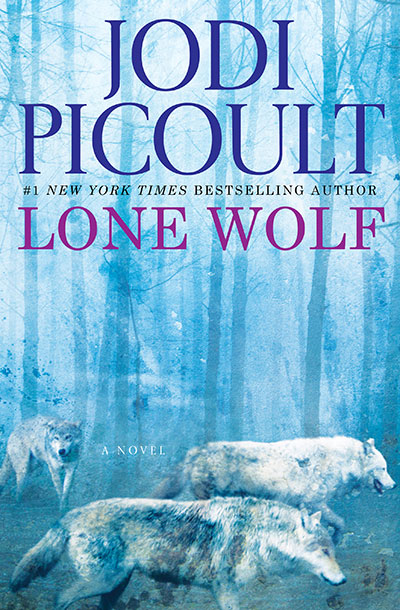 Edward Warren, 23, has been living in Thailand for five years, a prodigal son who left his family after an irreparable fight with his father, Luke. But he gets a frantic phone call: His dad lies comatose in a NH hospital, gravely injured in the same accident that has also injured his younger sister Cara.
Cara, 17, still holds a grudge against her brother, since his departure led to her parents' divorce. In the aftermath, she's lived with her father – an animal conservationist who became famous after living with a wild wolf pack in the Canadian wild. It is impossible for her to reconcile the still, broken man in the hospital bed with her vibrant, dynamic father.
With Luke's chances for recovery dwindling, Cara wants to wait for a miracle. But Edward wants to terminate life support and donate his father's organs. Is he motivated by altruism, or revenge? And to what lengths will his sister go to stop him from making an irrevocable decision?
LONE WOLF looks at the intersection between medical science and moral choices. If we can keep people who have no hope for recovery alive artificially, should they also be allowed to die artificially? Does the potential to save someone else's life with a donated organ balance the act of hastening another's death? And finally, when a father's life hangs in the balance, which sibling should get to decide his fate?
(thanks to her website)
This story was just okay,not the best of hers. A lot of Luke's part was what Jodi talked about at her book talk I attended last month so I could just skip those parts. I really couldn't stand Cara,she was so selfish and stubborn. I hated that Jodi kept alluding to one secret or another and wouldn't let it out till much later. I wasn't attached to anyone and I never really felt bad for any of the characters. Too much wolf information and I thought it was strange that two small characters' point-of-view popped up halfway through the book,it was just too many characters at once. I just was not a fan of this,especially the strange ending...I give it a D.
******
Thanks,
Heather
!
******
Happy Easter!!
Happy Passover!!
Happy Weekend!!