I am joining up for the second week with
Boob Tube Babble
. Here are the new episodes/shows I watched this week: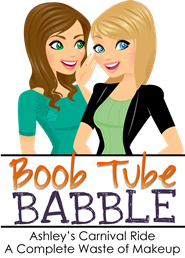 CSI:NY:
This was a solemn season premiere since it centered around the anniversary of september eleventh. But it was a neat way to show where all the characters were on that pivotal day. This show is just one of my old classics I just can't give up yet :)
Blue Bloods:
This show has a great cast along with an interesting case each episode. I love the solid family dynamic, NY setting, family of cops and famiy dinner on sundays. Although of course there are some cheesy lines and unrealistic situations, but hey, that is tv. A good show for a friday night.
Person of Interest:
I only watched this because my Dad wanted to see it but I will admit that it caught my attention. Definitely a unique topic for a tv show, makes me think twice about what I do all day and who is watching me. It also reminds me of
Burn Notice
since the good guy is fighting for someone in trouble.
Prime Suspect:
This is okay, another cop show and another NY setting...seems to be the theme this season. I do like the reality of the situations and characters; and it doesn't hurt that the main character is a tough woman! This reminds me of
The Closer
(minus the southern accent and LA setting....).
A Gifted Man:
Truth be told I only wanted to see this show because Patrick Wilson is nice to look at :) However, I enjoy the general idea of the hot-shot, successful neuro-surgeon (think of McDreamy...) who is approached by the ghost of his ex-wife while still trying to manage his practice and image. I was glad to see that it wasn't as lame as I thought it was going to be, and there is some heart to it. At least it is a medical type show rather than another cop/crime/mystery show!
Unforgettable:
I think this is an interesting take on the usual crime show topic. I am very much intrigued by Poppy's character and her past and family tragedy. I will be watching more for sure.
Pan Am:
I was smitten by the era (I swear I was born in the wrong year because I love the 50s/60s) and the premise of this show. And it didn't disappoint; I like all the back stories of the ladies and I am looking forward to discovering more. A simple, fun,clean and enjoyable show.
Hart of Dixie
: There were not-so high hopes for this show, I mean the previews made it seem like it was going to be good but you never know with a "tween" type show. I watched it and I liked it. It was decent and interesting and not too cheesy or inappropriate. A few turns/twists, too, so I will definitely be watching more.
What did you watch this week?