Lisa Scottoline's
Every Fifteen Minutes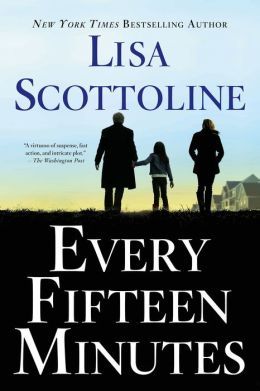 Dr. Eric Parrish is the Chief of the Psychiatric Unit at Havemeyer General Hospital outside of Philadelphia. Recently separated from his wife Alice, he is doing his best as a single Dad to his seven-year-old daughter Hannah. His work seems to be going better than his home life, however. His unit at the hospital has just been named number two in the country and Eric has a devoted staff of doctors and nurses who are as caring as Eric is. But when he takes on a new patient, Eric's entire world begins to crumble. Seventeen-year-old Max has a terminally ill grandmother and is having trouble handling it. That, plus his OCD and violent thoughts about a girl he likes makes Max a high risk patient. Max can't turn off the mental rituals he needs to perform every fifteen minutes that keep him calm. With the pressure mounting, Max just might reach the breaking point. When the girl is found murdered, Max is nowhere to be found. Worried about Max, Eric goes looking for him and puts himself in danger of being seen as a "person of interest" himself. Next, one of his own staff turns on him in a trumped up charge of sexual harassment. Is this chaos all random? Or is someone systematically trying to destroy Eric's life?
(thanks to Barnes and Noble)
This book was well done,it had me reading till late at night. I saw one of the twists coming but not the second one! I felt for Eric,too. I give it a solid B.
Taya Kyle's
American Wife:A Memoir of Love,War, Faith and Renewal
(thanks to Barnes and Noble)
I really enjoyed this memoir,Taya's writing is simple yet honest and sweet. Her wisdom is powerful and uplifting. I liked reading her take on some of the situations,etc that Chris wrote about in his novel,
American Sniper
. I was crying a lot at the end of this book,their relationship and example was/is so honorable and raw. I give this an A.
Karen White's
The Sound of Glass
It has been two years since the death of Merritt Heyward's husband, Cal, when she receives unexpected news—Cal's family home in Beaufort, South Carolina, bequeathed by Cal's reclusive grandmother, now belongs to Merritt.
Charting the course of an uncertain life—and feeling guilt from her husband's tragic death—Merritt travels from her home in Maine to Beaufort, where the secrets of Cal's unspoken-of past reside among the pluff mud and jasmine of the ancestral Heyward home on the Bluff. This unknown legacy, now Merritt's, will change and define her as she navigates her new life—a new life complicated by the arrival of her too young stepmother and ten-year-old half-brother.
Soon, in this house of strangers, Merritt is forced into unraveling the Heyward family past as she faces her own fears and finds the healing she needs in the salt air of the Low Country.
(thanks to her website)
I devoured this book,even though within 50 pages I could tell it was going to be a tear-jerker. I really liked the opposites of Merritt and Loralee. Another idyllic setting of South Carolina and a story about the power of love and women! I give this an A.