Today,I am co-hosting with two lovely ladies over on the
Faith & Fellowship blog hop
! It is my first ever co-hosting gig :)
I keep hearing David Crowder's newest song,
I am
on KLOVE this week, and I just love it because it is exactly how I feel at this point in my life. The chorus speaks volumes:
In the middle of the storm
I have been holding on to God's way and path these past five years as I impatiently continue to wait/hope/look for my own elementary school classroom to teach in. I have subbed,being an after-school program teacher,was a nanny for three years(which was by far the best job to date) and am currently a pre-k teacher in a corporate daycare setting. I continue to struggle with His way and in fully trusting in Him and this song just reiterates that I need to stay with Him and let it all be. I know that the only reason I have kept my sanity these past five years is through his strength and grace.
I am thankfully for his love and dedication.
I am grateful for prayers.
I am thankful for the family He has blessed me with.
I am thankful for His constant support as I continue to pursue my dreams.
I am His story to tell.
I am.
******
Happy Friday!!
*******
It's that time again - time for us to join together as a body of Christ and get to know and encourage our sisters in Christ! Link up any and all posts you've written in this past week (or dig into your archives!) that are an encouragement for the Christian community! I can't wait to read your testimonies, find out what God's doing in your life, or learn what you're learning in your quiet time!
Faith and Fellowship Guidelines
1. Link up a post (not just the link to your blog) from the week that shares what the Lord's been doing in your life or speaking to you.
2. Put the button on your blog post or blog so that others can hear about this wonderful group of Godly women.
3. Visit as many blogs as you're able and get to know your sisters in Christ!
4. Share this blog hop on social media using #faithandfellowship or pin the button on pinterest.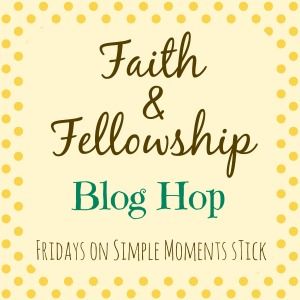 Your Host:
Your Cohosts:
If you'd like to cohost in the future, please email Susannah at susannah.kellogg (at) gmail.com