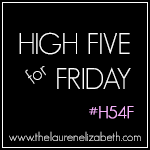 1. It is a three day weekend! This week went by quickly (thankfully) but I am really looking forward to having monday off of work!
2. Spending two night with Lovebugs 1,2,and 4 :) I miss not seeing them every other day
3. Looking forward to some Bestie time this weekend!
4. Catching up on
Burn Notice,Suits,
and
Covert Affairs
5. Realizing that Sarah Jio has written two newer novels,they are currently on my library list :)
Happy Friday!!!!!!