Join in with Heather and Katie too!
Linda Castillo's
Breaking Silence
The Slabaugh family are model Amish farmers, prosperous and hardworking, with four children
and a happy extended family. When the parents and an uncle are found dead in their barn, it appears
to be a gruesome accident: methane gas asphyxiation caused by a poorly ventilated cesspit. But in
the course of a routine autopsy, the coroner dis-covers that one of the victims suffered a head
wound before death—clearly, foul play was involved. But who would want to make orphans of the Slabaugh's children? And is this murder somehow related to a recent string of shocking hate crimes against the Amish?
Having grown up Amish, Kate is determined to bring the killer to justice. Because the other series of attacks are designated hate crimes, the state sends in agent John Tomasetti, with whom Kate has a long and complex relationship. Together, they search for the link between the crimes—and uncover a dark secret at work beneath the placid surface of this idyllic Amish community.
(thanks to her website)
The third installment in this series and it didn't disappoint! Thankfully it wasn't as graphic,disturbing as the first two but it still had me guessing til the end. I loved learning more about Kate and John's relationship and watching them solve another Amish murder together. I give it an A.
Friends Forever
by Danielle Steel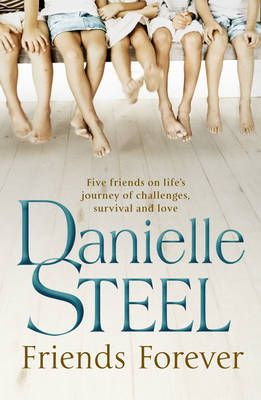 Gabby, Billy, Izzie, Andy, and Sean—each bursting with their own personality, strikingly different looks and talents, in sports, science, and the arts. Each drawn by the magical spark of connection that happens to the young. At the exclusive Atwood School, on a bright September day, starting in kindergarten they become an inseparable group known to outsiders as the Big Five. In this rarefied world, five families grow closer, and five children bloom beside one another, unaware of the storms gathering around them.
As they turn from grade-schoolers to teenagers, seemingly perfect lives are buffeted by unraveling families, unfortunate missteps, and losses and victories great and small. And, one by one, they turn back to the Big Five to regain their footing and their steady course. But as they emerge from Atwood and enter the college years, the way forward is neither safe nor clear. As their lives separate and diverge, the challenges and risks become greater, the losses sharper, and the right paths harder to choose, in a journey of friendship, survival, and love.
In what may be her most intricate and emotionally powerful novel yet, Danielle Steel tells a heart-wrenching, ultimately triumphant story that spans decades, weaves together a vivid cast of characters, and captures the challenges we face in life—sometimes, if we're lucky, with a friend forever by our side.
(thanks to her website)
A quick read, at times there were too many characters to keep straight but a sweet,sad story in the end. I feel like Danielle has a lot of details,etc just to cover the pages which sort of get in the way of the overall story. Worth a one-day read;I give it a B.
******
Happy Labor Day Weekend,everyone!