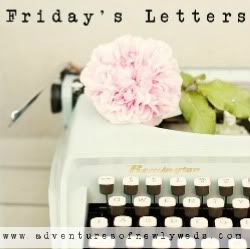 Thanks,
Ashley
!
Dear Weekend
you are promising to be amazing and very busy but I cannot wait.
Dear Self
you need to start running again!
Dear Bman
I love watching/listening to you play on your own;your imagination and creativity ceases to amaze me.
Dear Target
I am itching to stop by this weekend.
Dear
Girls in White Dresses
I am thoroughly enjoying reading you.
Dear cookies I made yesterday
you are so delicious and addicting.
Dear NY
I am pumped to come visit you in a couple weeks!
Dear Sunshine
I am loving your appearance this week.
Dear Lady Antebellum
I cannot wait to see you live tonight!
Dear Spring
I am looking forward to your entrance soon!
******
Have a fantastic friday & weekend,girls!!
******
Don't forget to enter
my giveaway
;it ends wednesday!