The Soldier's Wife
by Margaret LeRoy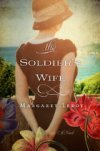 The Nazis are bombing Cherbourg. In her secluded house on Guernsey, Vivienne de la Mare waits fearfully. And then the Occupation begins. Nothing is safe anymore. Vivienne's husband is fighting on the frontline, and she has two young daughters and her mother-in-law to care for; and her new life is one where the enemy lives next door.
(thanks to her website)
I really enjoyed this story;I am always a sucker for a good war-time story. This one hit the mark, and even provided me with a different view/experience of what life may have been like during WWII. I was on the edge of my seat just waiting for something to happen from the very first page and I fell in love with the characters. It is such a unique look at an area of Europe I don't know anything about; such an interesting story about a soldier's wife and her life while he is away.
The Sisters
by Nancy Jensen
Growing up in hardscrabble Kentucky in the 1920s, with their mother dead and their stepfather an ever-present threat, Bertie Fischer and her older sister Mabel have no one but each other—with perhaps a sweetheart for Bertie waiting in the wings. But on the day that Bertie receives her eighth-grade diploma, good intentions go terribly wrong. A choice made in desperate haste sets off a chain of misunderstandings that will divide the sisters and reverberate through three generations of women.What happens when nothing turns out as you planned? From the Depression through World War II and Vietnam, and smaller events both tragic and joyful, Bertie and Mabel forge unexpected identities that are shaped by unspeakable secrets. As the sisters have daughters and granddaughters of their own, they discover that both love and betrayal are even more complicated than they seem.
Gorgeously written, with extraordinary insight and emotional truth, Nancy Jensen's powerful debut novel illuminates the far-reaching power of family and family secrets.
(thanks to her website)
I actually
hated
this book. It was darker and more upsetting than the summary alludes to. I felt it was confusing with the continuous switching to different characters/women for each chapter and it was annoying to keep remembering how old each woman is with each new chapter of theirs since the years moved so quickly. I was so disappointed with this novel, I thought it would be a good story about sisters and instead it was centered on hatred and envy trickling down each generation of women/sisters, no one was happy and the main truth behind the original two sisters was never even truly set to rest. Also, it seemed that practically all the male characters were horrible men. Sorry, I just was not a fan at all of this book. I only read to the end because I thought maybe there would be some sort of reconciliation for the two head sisters and there was not.
******
Share your books with
Heather,
too!
******
Happy Weekend & Happy Reading!