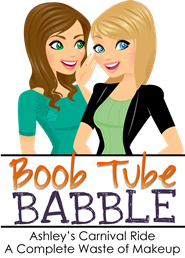 Spoiler Alerts!
HIMYM
ugh, I knew they were going to pull the "not-really-pregnant" trick on us. This was just a sad episode, no holiday festive-ness at all!! It was a sweet thing Ted did for Robin though, for a second I thought they were going to kiss or something but I was relieved that they didn't. (CBS on mondays @ 7)
Hart of Dixie
I liked this holiday episode and I am glad they finally settled the lame George and Zoe "love" storyline; I wasn't rooting for them at all. I still think Lemon is horrible and she sure has A LOT of big secrets from George! I bet Lemon's dad sent her Mom away in the first place and told her never to see her daughters again, I highly doubt the Mom would just leave them and go start another family so close to her old one. But,that is just my guess. I loved that Zoe and Wade got a little bit closer; I wish that Zoe would have said yes to his drink offer though, he looked so sad when she said "rain check instead". And what is up with the long break until new episodes?!? Not until the end of January!! (the CW on mondays @ 8)
Flashpoint
this show is a fun show about the strategic response unit up in Canada. A great cast, cool stories to follow each week and just enjoyable for everyone. A good look at a different police officer type team. (It used to air on CBS but now it is on ION on tuesdays @ 9)
Teen Mom 2
Alright, this is the only junk/"reality" show I watch and I love it. I can't really stand any of these teen moms, their parents spoil a lot of them. The only real hard worker is Leah with the twins, but I think she and her husband rushed into marriage too soon. I CANNOT stand Jennell, what a liar and horrible, selfish mother. I hate that she always refers to taking care of "her" son as "watching him"...or "babysitting him". Umm yeah, you are his mother, you are supposed to be taking care of him!! And Chelsea just needs to wake up and stay the heck away from the creepy baby daddy, he is worthless! (MTV on tuesdays @ 9)
Alright, my rants are complete. What have you watched this week?
Tell us over on
Neely
and Ashley's blogs!