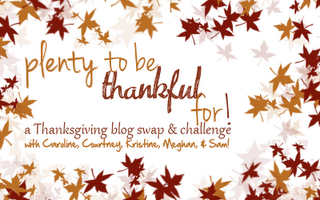 Day 6: Thanksgiving Recipes
I love Thanksgiving dinner! The turkey, cranberries,mashed potatoes, rolls, sweet potatoes, wine, appetizers, desserts, salad, creamed corn casserole, green bean casserole, relish tray.
My two favorites: stuffing and green bean casserole...yum!
And my newest favorite recipe is for
pumpkin cheesecake bars
. They are divine and super easy to make. I made them a couple weeks ago and my family raved so much and asked me to make them for dessert for Thanksgiving.
What do you like best about Thanksgiving dinner?
Link up too, with
Caroline
and the other lovely ladies.
3 days to go!