On to the next day of
Caroline
and Co's "Thankful for" link-up.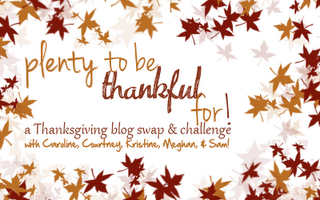 Day 2: Youtube/Internet Fun
I sure can waste a lot of time on the computer each day :) Here is where I frequent....
blogs
Suri's Burn book--it is hilarious!
people.com
youtube (although I don't have a favorite video or anything)
amazon.com
I do not however go on facebook,twitter or pinterest. Yes, I know, hard to believe but it is true.
******
Where do you spend your time when on the computer?