Neely, Erin and Tracy hosted a super fun Fall Swap this month and I just had to participate because Fall is my favorite season. I love all things Fall :)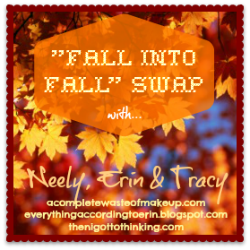 My lovely partner for this fabulous Fall-themed swap was
Allison
and she spoiled me so much. She is also one of the sweetest girls around!
She sent me:
Two lovely scented candles---creamy pumpkin and apple cobbler
Two awesomely dark nail polish colors
A Starbucks gift card- --so I can get a pumpkin spice latte
An adorable bookmark---that I think she made, it is so pretty
A bag of pumpkin spice coffee---she did her research for sure, I love me some coffee
Reese PB---which I promptly scarfed down lol
A tasty Snickers
I loved this swap, my partner and everything about it.
Happy Fall!!